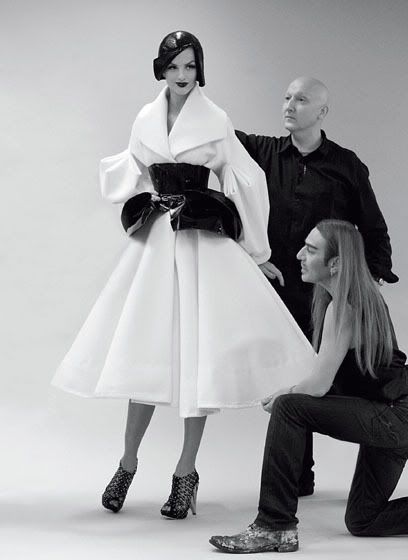 Teve início ontem, 24 de fevereiro, e fica em cartaz até 31 de maio a mostra
"Hats: An Anthology by Stephen Jones"
, que surgiu da parceria do designer Stephen Jones com o
Victoria and Albert Museum
.
Stephen Jones
foi um dos primeiros chapeleiros ingleses a trabalhar com grandes maisons em Paris. É ele quem cria os chapéus que apresentados nos desfiles de Vivienne Westwood, Thierry Mugler, Marc Jacobs, Dior, John Galliano, Jean Paul Gaultier, Comme des Garçons, entre outros.
Na mostra poderão ser apreciadas mais de 300 criações desde o Egito Antigo até designers contemporâneos, como o próprio Stephen e Philip Treacy, além de criações antigas de grifes como a Balenciaga, Balmain e Chanel.
Ela levou quase dois anos para ser produzida e foi dividida em cinco seções: na primeira, chamada
Inspiration
, estão chapéus utilizados pelo Príncipe Albert e pela Rainha Vitória, no século 19, e algumas peças sobre os principais temas explorados pelos criadores, como exotismo, modernismo e natureza.
Já a seção
Creation
irá mostrar o processo que envolve a criação destas peças.
The Salon
apresentará modelos que aparecem nos principais desfiles de moda do mundo, feitos por alguns dos principais criadores do século.
E na
The Client
, os visitantes poderão ver peças de algumas personalidades que são adeptas deste acessório, como Dita von Teese, Madonna, Boy George, Isabella Blow e Anna Piaggi, da Vogue Italia, fã declarada de Stephen Jones. Além de peças que apareceram em filmes, usados por atrizes como Audrey Hepburn, Ava Gardner e Marlene Dietrich.
A primeira grande exposição sobre moda no Victoria and Albert aconteceu em 1971, sob o nome de
"Fashion: An Anthology by Cecil Beaton"
, organizada pelo fotógrafo inglês Cecil Beaton.
E no
SHOWstudio
é possível ver um projeto feito em homenagem à mostra, chamado de
Hats Off
.