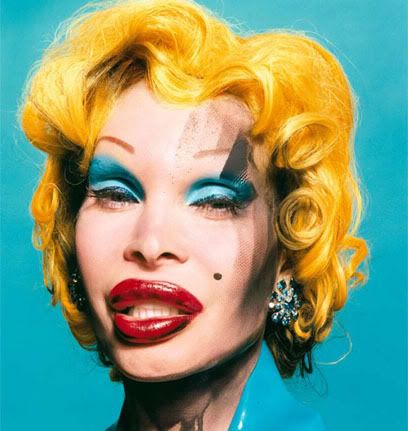 Está rolando no
Musée de La Monnaie
, em Paris, uma retrospectiva do trabalho do fotógrafo
David LaChapelle
. Esta é a primeira grande mostra do artista na cidade e faz parte da nova política de acompanhamento e valorização da criação contemporânea.
David nasceu na Carolina do Norte, e estudou Belas Artes na North Carolina School of the Arts até se mudar para Nova York para estudar simultaneamente na Arts Student League e na School of Visual Arts.
Ele se tornou famoso por suas imagens de cores fortes e grandes doses de surrealismo, que unem de forma bem-humorada referências do barroco, pop e kitsch. Seu primeiro emprego como fotógrafo foi oferecido por
Andy Warhol
, então editor da
Interview Magazine
.
Raramente suas fotos são espontâneas, e quase sempre têm por trás um trabalho extremamente elaborado de composição de cor e equilíbrio dos elementos. Cada objeto que compõe a cena foi especialmente pensado para estar ali.
As fotografias de LaChapelle contam uma história, visto que falam através de seus personagens, que normalmente se encontram em situações muito peculiares, que contrastam com o ambiente de que fazem parte. Todos eles têm um lado não humano, que beira à perfeição, devido aos corpos extremamente brilhantes, poses e figuras perfeitamente esculpíveis, à semelhança das representações olímpicas da Grécia Antiga.
O seu trabalho já esteve nas páginas e capas das principais publicações de moda do mundo, como a Vogue Italia, Vanity Fair, i-D, Vibe, Interview, The Face e muitas outras.
Tem no portfolio videoclipes para Jennifer Lopez ("I'm Glad", 2003), Gwen Stefani ("Rich Girls", 2005), Christina Aguilera ("Can't Hold Us Down", 2003, e "Dirty", 2002), Moby ("Natural Blues", 2000), Macy Gray ("She Ain't Right for You", 2003), No Doubt ("It's My Life", 2003) e Elton John ("This Train Don't Stop There Anymore", 2001).
No início do ano passado o fotógrafo ganhou uma mostra no
MuBE
(Museu Brasileiro da Escultura). Nela estavam expostas 25 fotografias divididas em retratos de famosos (Courtney Love, Madonna, Marilyn Manson e Angelina Jolie, entre outros) e composições com modelos anônimos feitas por encomenda para revistas ou campanhas publicitárias, além dos videoclipes e do documentário "Rize", que abriu o festival de cinema de Sundance em 2005. Nele LaChapelle retrata o "Krumping", estilo de dança dos subúrbios de Los Angeles.