Cada vez mais modelos negros, asiáticos e de etnias diferentes são recrutados pelas agências em todo o mundo. O número ainda é pequeno se comparado ao de modelos brancos e o assunto já foi tema de inúmeras discussões e debates entre agências, marcas e veículos de comunicação.
Qual é o seu modelo albino preferido? Pergunta difícil, já que eles estão à margem deste sistema por serem ainda mais "exóticos". Neste post você vai conhecer alguns deles que tem se destacado em revistas, desfiles e campanhas internacionais.
O albinismo é uma doença genética que altera a produção da melanina, pigmento que dá cor à pele, olhos e cabelo. Por muito tempo os albinos foram tratados como anomalias, chegando a serem exibidos como atrações circenses, como é o caso da família de
Rudolph Lucasie
, ou até mesmo perseguidos e assassinados em algumas tribos africanas, que acreditam que o seu corpo tem poderes sobrenaturais, sendo motivo para deceparem parte de seus corpos para serem utilizados em rituais religiosos.
Um dos primeiros personagens que se tem notícia sobre ser albino é o personagem bíblico Noé, citado em um dos livros apócrifos como sendo "uma criança de pele e olhos tão alvos que parece ser filho de anjos". Não colocando em jogo a veracidade desta história, o personagem deu nome a uma organização norte-americana chamada
NOAH
(National Organization for Albinism and Hypopigmentation), que se dedica a desmistificar e propagar informações sobre o albinismo.
Connie Chiu
A chinesa Connie Chiu é, talvez, a que esteja a mais tempo no mercado. Nascida em 1969, em Hong Kong e aos 7 anos sua família mudou-se para a Suécia, onde o clima frio escandinávo seria menos agressivo à sua pele e olhos. Ela trabalhou para grifes do escalão de
Jean Paul Gaultier
e foi fotografada por nomes como
Terry Richardson
,
Paul Burley
e
Nick Knight
.
Diandra Forrest
Diandra Forrest é de uma safra mais nova de modelos. Ela foi descoberta pelo jovem e talentoso fotografo
Shameer Khan
enquanto passeava pelas ruas de Nova York. Pouco tempo depois já tinha contrato assinado com uma das maiores agências do mundo, a
Elite Models
.
Shaun Ross
Shaun Ross, assim como Diandra, é um afrodescendente, e devido à sua condição de albino é clasificado nos castings como loiro. Recentemente, a
Osklen
contratou ele e Diandra pra serem protagonistas da campanha de inverno, fotografada por
Karl Simone
.
As semelhanças com Diandra não terminam aí, já que ele foi descoberto, aos 16 anos, pelo mesmo fotógrafo. Já pegou desfiles de
Patrik Ervell
e
Tim Hamilton
, além de inúmeros editorias e campanhas. Recentemente o
The New York Times
publicou um artigo sobre o modelo, que você pode ler
aqui
.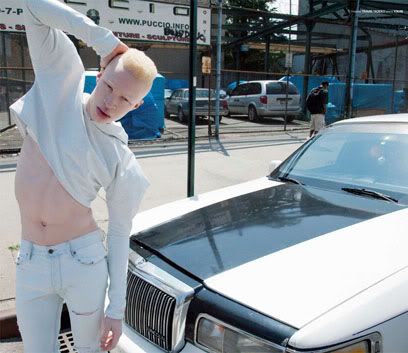 Alyosha Quooss
Alyosha Quooss é alemão, agenciado pela espanhola
Trend Management
, de Barcelona. Além de trabalhar como modelo, ele também faz ilustrações e já teve trabalhos publicados em alguns veículos de grande repercurssão na Espanha.